Welcome!
President's Message
Welcome to our 56 th Annual Celebration of the American Saluki Association. I want to thank all new Officers, Board Members and Members at Large and other volunteers for their time and attention to keeping our club in good standing. We only had 9 months to co-ordinate this year's Celebration. I called upon a lot of members to help and everyone joined in to help. Thank you to Ron and Jackie Wassenaar for their time in working as members of the Lompoc Valley Kennel Club and coordinating the weekend events.
This year we have the Desert Match in conjunction with the Celebration, it is usually in Southern California in the spring. This year we were not able to find a chairperson or a date to have the match. I am hoping that someone will come forward to chair this event next spring. There are many people to guide you through the process.
The Medallion committee received about 6 entries in the contest and the drawing that best fit our criteria was from artist Betty Provendenti. We will be presenting these medallions to BOB, BOS, WD, WB, and Obedience for the first time at our Celebration on Sunday. We have not ever offered medallions at the Celebration, only at regional TSE'S.
Jessica Dixon, our new webmaster has done a wonderful redesigning our site and moving it to a webhost who is been very easy to work with. If you haven't been to the site, please take a few minutes to navigate through the links. We are posting any information that the membership needs weekly.
Thank you for attending our Annual Meeting and Celebration.
In keeping with one of the traditions of the American Saluki Assoc. we are proud to present our next medallion. Every 5 years or so we look for a new image to grace this wonderful trophy. The artwork chosen for this next series of medallions was drawn by artist Betty Providenti.
These medallions are paid for by donations made on your dues renewals. They are presented to the top 5 winners at each Regional Trophy Supported Entry each year. This year we are starting a new tradition and presenting medallions to the top 5 winners at the Perpetual Trophy Supported Entry Celebration at Lompoc.
The medallion will be in a nickel finish with a black enamel outer ring.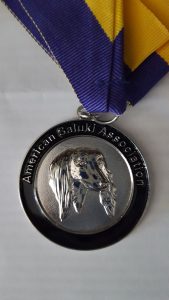 Fall Newsletter Advertisement Deadline:
September 30th
The Fall Newsletter will include the and more!
Showcase your dogs with a color or black and white photo advertisement. Paying for your newsletter ad is easy using PayPal. Or you can send a check to our editor made out to the ASA.
Click here to see fees for ads.
Camera ready ads are very much appreciated. Don't know how to submit a camera ready ad? Contact our newsletter editor, Tracey Larkin Cox. The ASA Newsletter staff has several graphic artists who can help you with or do your ad for you.
Membership dues are now past due!!
Want to pay using PayPal? Visit the Membership Renewal page to select the appropriate payment amount, then click the "Buy Now" option.
MEMBERS PLEASE NOTE: We have taken contact information for all officers off of the website due to continual spamming, phishing and fraudulent activity. If you would like a digital copy of the current ASA Membership, please contact the ASA Secretary. Also, you must be a member to request and receive your Membership listing. Thank you!