Dinner Reservations for the Awards Dinner Close July 19th
Welcome!
Planning the 56th ASA Celebration has begun!
The board has voted to approve the 2019 ASA Celebration to be held with the Lompoc Valley Kennel Club at Ryon Memorial Park, Lompoc, CA – Sunday July 28, 2019.
Thursday, July 25, 2019 – ASA Desert Match
Judge – Kathy Jones, Krimzyn Salukis
Click here to download ASA Desert Match 2019 Flyer.
Friday July 26, 2019 – San Angeles Saluki Club Specialty
Breed Judge- Pam Arwood, Appalachia Hounds
Sweepstakes Judge – Darlene Anderson

Saturday July 27, 2019 – San Angeles Saluki Club TSE & ASA Awards Dinner
Breed Judge is Mr. Dennis Gallant, Breawyn Irish Wolfhounds
Sunday July 28, 2019 – ASA Trophy Supported Entry at Lompoc Valley Kennel Club
Breed Judge – Jane Maddox-Bishop, Korsakov Borzoi
Click here to download 2019 Celebration Flyer Updated 6/15/19
In keeping with one of the traditions of the American Saluki Assoc. we are proud to present our next medallion. Every 5 years or so we look for a new image to grace this wonderful trophy. The artwork chosen for this next series of medallions was drawn by artist Betty Providenti.
These medallions are paid for by donations made on your dues renewals. They are presented to the top 5 winners at each Regional Trophy Supported Entry each year. This year we are starting a new tradition and presenting medallions to the top 5 winners at the Perpetual Trophy Supported Entry Celebration at Lompoc.
The medallion will be in a nickel finish with a black enamel outer ring.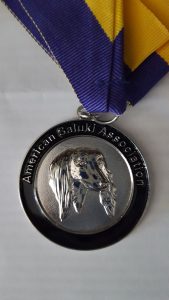 Summer Newsletter Advertisement Deadline:
June 30, 2019!
The Summer Newsletter will include the SCOA National Specialty and more!
Showcase your dogs with a color or black and white photo advertisement. Paying for your newsletter ad is easy using PayPal. Or you can send a check to our editor made out to the ASA.
Camera ready ads are very much appreciated. Don't know how to submit a camera ready ad? Contact our newsletter editor, Tracey Larkin Cox. The ASA Newsletter staff has several graphic artists who can help you with or do your ad for you.
YOU CAN NOW USE PAYPAL TO PAY YOUR DUES!!
Want to pay using PayPal? Visit the Membership Renewal page to select the appropriate payment amount, then click the "Buy Now" option.
MEMBERS PLEASE NOTE: We have taken contact information for all officers off of the website due to continual spamming, phishing and fraudulent activity. If you would like a digital copy of the current ASA Membership, please contact the ASA Secretary. Also, you must be a member to request and receive your Membership listing. Thank you!